We created OnTrack to get you a job
Our OnTrack essential skills database records your skills and qualifications and then connects you with employers looking for those qualifications. Once you're in the database, you can apply to job postings and job providers can find you directly.
You must be considered a CRM (Certified Registered Member) by our internal database either as a Tahltan Member or an Associate
Tahltan Member:
Person of proven Tahltan Ancestry registered as a Tahltan Central Government member.
Tahltan Associate:
Person not of Tahltan ancestry married (legal or common-law) to a Tahltan or parent of minor Tahltan child/children.

If you need to register, please complete this form.
Start Here
1. Visit the OnTrack essential skills database.
2. Register as a Member.
3. Once registered, sign in with your username and password.
SIGN IN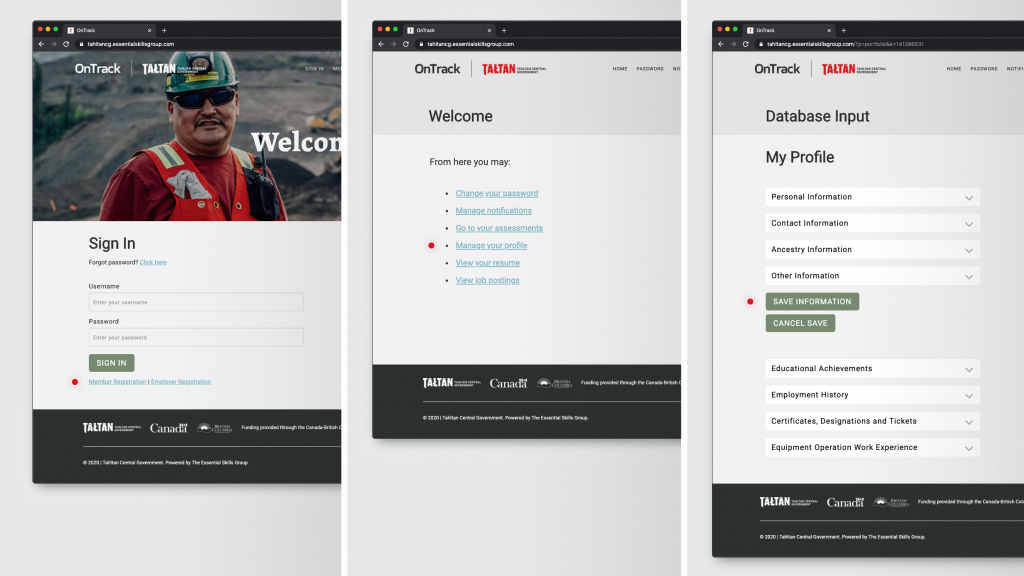 OnTrack Essential Skills Assessment
Assess and build your essential skills
You can choose a field and take assessments based on different jobs in:
General Labour and Hospitality
Equipment Operation
Skilled Trades
Click here for more info about each position
Each assessment offers free online learning resources to help you build your skills.
---
Build and print your Resume
Our database automatically creates a resume for you when you fill in your profile. You only need to enter an education; employment history and work experience; and certifications, designations and tickets.
---
Apply for jobs
Once you enter your information, our database will show the jobs that suit you. If you match an open job, our database notifies both you and the hiring company that you're a good fit.
---
Minimum Technical Requirements
Please note that the OnTrack essential skills database works on a wide range of devices including personal computers, laptops, notebooks and tablets. You can even use your mobile devices, such as smartphones, to register. However, to access certain features, such as test taking, you need to use devices with larger screens, e.g. personal computers, laptops, notebooks and tablets.
Be sure to use devices with a strong Internet connection. Some wireless networks are not strong enough for everything to work properly.
Link to Member User Guide:
Need Help?
Don't hesitate to contact us!
---
Ready to test your skills?
Match your skill set with current employment opportunities.
Test results help bolster your application.